Chimney Sweep – Willamina, Oregon
Oregon CCB # 193902
Chimney cleaning & repairs
30 years in the trade
www.willamettechimney.com
Why we publish our chimney cleaning prices.
To save you time. Our chimney cleaning activities feed the repairs division of our business, and we want you to know this upfront. We also want you to know that we do not go into "high-pressure mode" when it comes to sales. We do not try to sell you services, repairs, or products that you do not need  Chimney cleaning is our "foot in the door" because often times we see things that a chimney needs that the homeowner is not aware of. We then take pictures, present them, and explain the situation.
Then we ask if you would like a repair estimate. If not, we happily leave it alone and move on to the next cleaning appointment. Staying busy and having lots of work year-round has not been an issue for us. We value our relationships with our customers, and our customers have treated us very well over the years; we are grateful for that. Click on the tabs below to see our prices: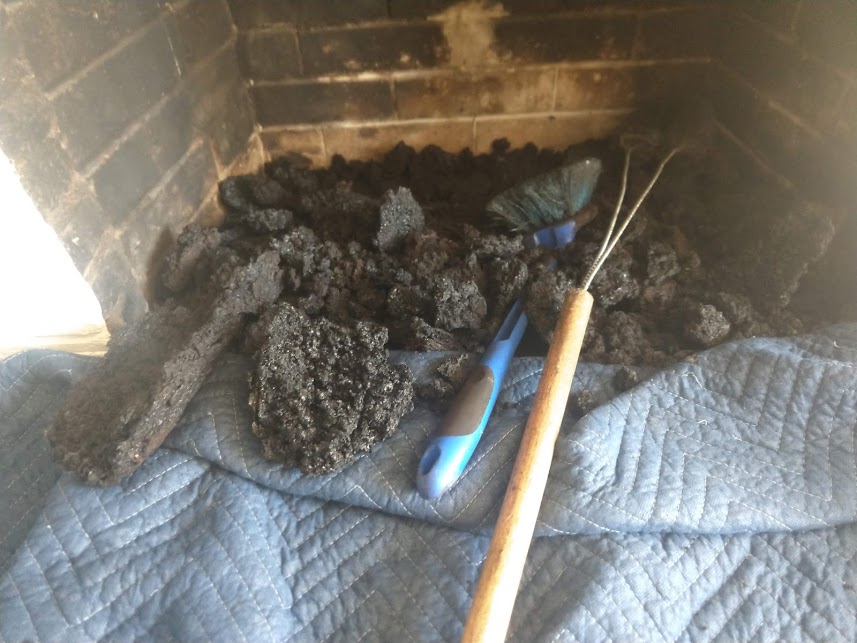 Burnt creosote removed from a chimney during the cleaning process. The homeowner had experienced a chimney fire.
Open Fireplace Chimney Cleaning – $219.00  Additional Cleanings $189.00
Lined Fireplace Woodstove Insert Cleaning – $259.00  Additional Units- $229.00
(A lined fireplace wood stove insert is a wood stove that has been inserted into an open fireplace. It has a stainless steel exhaust pipe running down the chimney, the exhaust pipe connects to the exhaust port of the insert.)
Unlined Fireplace Woodstove Insert – $389.00 – $410.00
(Unlined inserts need to be pulled out in order to properly clean the chimney and all of its chambers.)
Free-Standing Woodstove Cleaning – $259.00
Additional Free-Standing Woodstove Cleanings – $229.00
Pellet Stove Cleanings – $350.00 – $400.00
Cost for Oil Furnace Chimney Cleaning – $350.00 – $420.00  (Same price for a lined or unlined chimney. A lined chimney has a stainless steel pipe installed down the chimney, connected to the exhaust pipe of the furnace.
An additional $100.00 will be charged for excessive oil soot removal at the bottom of the chimney.  This is rare and occurs in unlined chimneys. This is the result of deferred maintenance/cleaning of the chimney, usually over a period of decades.
Call today to schedule a service appointment   (503) 583-5077                   CCB# 193902
 Gas Fireplace Service: 
 $259.00 for the first unit.                              $159.00 for additional units. 
Contrary to popular belief, Gas stoves and gas fireplace inserts need to be serviced on a regular basis. Gas fireplace service is usually addressed in the maintenance section of the owner's manual. These units are mechanical devices that are exposed to heat, and therefore require periodic maintenance and inspection to ensure proper functionality. We offer a 16-point cleaning and inspection service that provides the following:
The glass is removed, inspected, and cleaned.
We inspect and clean the logs and ensure that they are replaced per the manufacturer's specifications; this is a critical point in terms of proper fuel combustion. If the logs are not arranged correctly, sooting can occur, as well as an improper flame picture.
We look inside the firebox and inspect for cracks, leaks, and other items that may be an issue.
The burner and pilot assembly are inspected and tested for proper ignition, adjustment, and operation. Electrical measurements are taken for electronic pilot ignitions.
The fire log grate and the burner assembly are removed and cleaned.
We remove the pilot assembly and clean it, along with cleaning the burner orifices.
The

 

thermopile

 

voltage is tested for proper voltage transmission.
The fan assembly is cleaned and inspected.
The blower assembly is cleaned and inspected.
The various safety switches in the system are inspected and tested for proper operation.
The air shutters are cleaned of any build-up and debris; they are adjusted as needed.
Ash and glowing embers are adjusted for volume as needed. Often times there are manufacturer's specifications regarding the amount of glowing embers to be used.
Seals and gaskets are inspected for proper seating and functionality.
Gas leak tests are performed on all of the gas connections.
The flame profile is adjusted for proper fuel combustion and appearance.
Finally, we ensure that you are operating the appliance correctly and ask if you have any questions.
Inspection and Cleaning Service – $259.00
Repair Services – $259.00 for the first hour of service. $1200.00 per hour billed afterward in 10-minute increments.
Parts
 – Parts costs are in addition to service fees.
 CCB# 193902                                          
Call today to schedule an appointment.   
        (503) 583-5077

Are you going to make a mess in my house and get soot all over the place?
No. We lay out carpet runners and mover's blankets. We seal off the fireplace opening with plastic, after closing the damper (if one is present.) We move the brush down SLOWLY during the sweeping process so as not to build up compression during the downstroke of the brush. If you have a free-standing stove, we make sure the door is closed well and we wrap the stove with a mover's blanket. If we are cleaning an oil furnace chimney, we remove the exhaust pipe, duct-tape over the hole in the chimney that the pipe goes through, and seal any clean-out doors with duct tape prior to sweeping.
How long will this take?
We are pretty good judges on how long any given sweeping situation will take us to perform, and our scheduler will let you know upon scheduling your appointment. On average, 1 cleaning takes us about an hour, 2 takes 2 hours; this is for open fireplaces. Free-standing woodstoves, fireplace inserts, oil furnace chimneys, and pellet stoves can take longer depending on the designs and installations of these units.
What forms of payment do you take?
Visa and Mastercard, cash, and checks. No chickens. We do not take chickens!
How often should I have my chimney swept?
Good question. The fire marshall recommends a yearly cleaning and inspection, which is not a bad idea. You could have a clean chimney 1 year after your last cleaning, but have a squirrel build a nest in the chimney meanwhile (we do sell rain caps that keep rain and animals out…)
Can I get on the yearly cleaning list?
Absolutely. We call 1 month ahead of time as a reminder, then we call the day before your appointment. This gives you plenty of time to reschedule or cancel if need be.
Are you going to crack my tile roof?
We do not get on tile roofs. If the chimney is on the side of the house and we can get a ladder against it, then we can sweep it. Otherwise, we recommend that you call Oregon Chimney and ask for Mark Robinson to come out and sweep the chimney. He has been sweeping forever and weighs considerably less than anyone here.  Oregon Chimney's number is   (503) 231-2588.
Okay, what about a metal roof?
In most cases, we can get on a metal roof, but we ask for a dry day to do it.
What about a membrane roof?
Yes, but only on a dry day. Those membrane roofs can get really slick in rain and snow.
I cannot be there for the sweep. Can I leave a key or a key code?
Yes. Please pass the data to the scheduler.
Do you guys do repairs?
Yes. Lots of them.   
YouTube channel: Willamette Chimney                                   

Positive:
Professionalism
,
Punctuality
,
Dallas made our chimney look great for many years to come. Great work!! Professional, answered any questions we had. Will use them again in the future.
Service:
Chimney repair & restoration
​
Positive:
Professionalism
,
Punctuality
,
Quality
,
Responsiveness
,
Value
Cliff was responsive when I called, on time, friendly, and provided great service. Prices were great and seemed to do an A+ job. Absolutely recommend!!
Services:
 

Chimney cleaning

, 

Chimney inspections
My 100-year-old brick chimney had loose bricks and deteriorating mortar. Doug, Howard, and Cliff worked hard and did a fine restoration job for a fair price. They maintained a clean work site and were pleasant to have around. I am confident the chimney will look good and be stable for many years to come.
Is the chimney ready? Chimney caps need a good solid base to attach to so that they do not blow off (and potentially cause more damage.)Flue tiles on top These photos show a chimney with a flue tile extending out of the top of the chimney. The stainless steel rain cap...