Chimney Repair –
Monmouth, Oregon
Oregon CCB # 193902
30 years in the trade
Free estimates
www.willamettechimney.com
 Our chimney cleaning activities feed the repairs division of our business, and we want you to know this upfront. We also want you to know that we do not go into "high-pressure mode" when it comes to sales. We do not try to sell you services, repairs, or products that you do not need  Chimney cleaning is our "foot in the door" because often times we see things that a chimney needs that the homeowner is not aware of. We then take pictures, present them, and explain the situation.
We value our relationships with our customers, and our customers have treated us very well over the years, and we are grateful for that.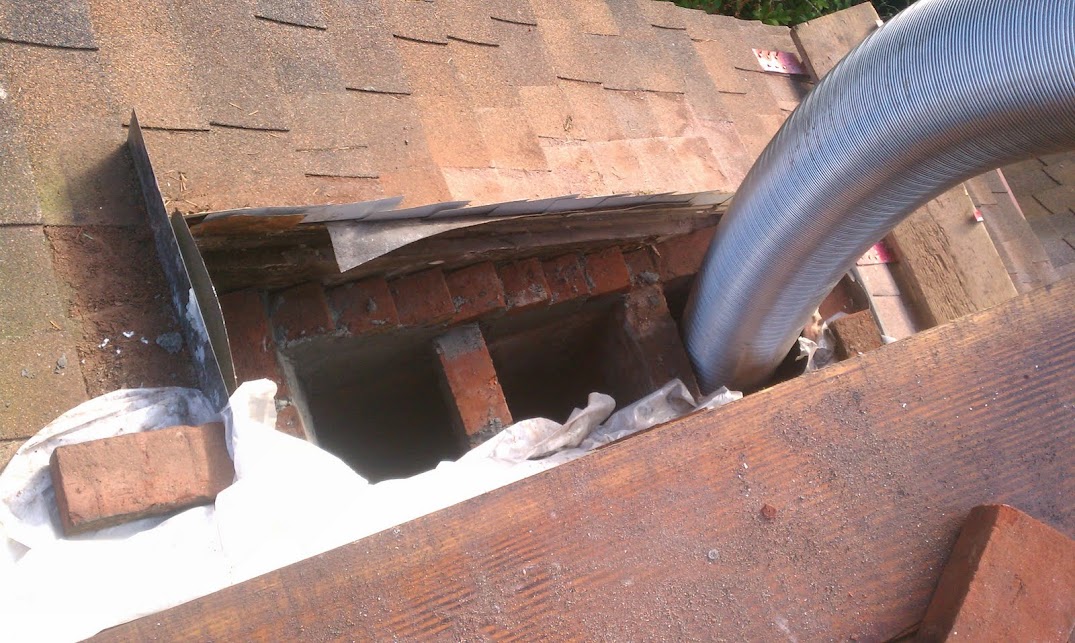 Chimney torn down to a solid base, in preparation for rebuilding. A flexible stainless steel liner is inserted down the flue that services the oil-fueled furnace. The liner attaches to the exhaust pipe of the furnace.
Call the number above to talk to a real human that we employ! You can text us as well, and text us your chimney photos. Sending us photos can speed up the estimating process tremendously. Photos can also be emailed to: willamettechimney@gmail.com
Positive:
Professionalism
,
Punctuality
,
Dallas made our chimney look great for many years to come. Great work!! Professional, answered any questions we had. Will use them again in the future.
Service:
Chimney repair & restoration
​
Positive:
Professionalism
,
Punctuality
,
Quality
,
Responsiveness
,
Value
Cliff was responsive when I called, on time, friendly, and provided great service. Prices were great and seemed to do an A+ job. Absolutely recommend!!
Services:
 

Chimney cleaning

, 

Chimney inspections
My 100-year-old brick chimney had loose bricks and deteriorating mortar. Doug, Howard, and Cliff worked hard and did a fine restoration job for a fair price. They maintained a clean work site and were pleasant to have around. I am confident the chimney will look good and be stable for many years to come.
Is the chimney ready? Chimney caps need a good solid base to attach to so that they do not blow off (and potentially cause more damage.)Flue tiles on top These photos show a chimney with a flue tile extending out of the top of the chimney. The stainless steel rain cap...